University lecturer works to reduce plastic waste
A mobile store of Refill Đây project in Hà Long Bay. — VNA/VNS Photo Phạm Mai
As published in Viet Nam News on 1 March 2021
HCM CITY — A Vietnamese university lecturer has won a prize in the UNDP's Ending Plastic Pollution Innovation Challenge.
Nguyễn Hữu Nhân, a lecturer of Việt Nam RMIT University, started a project named 'Refill Đây' (Refill Here) to work with manufacturing businesses to set up mobile refilling stores for retail products such as detergent, cosmetics, spices and dried foods in residential areas so people can bring use own containers to reduce plastic waste.
Born and raised in the US, Nhân returned to Viet Nam in 2002. A year later, he joined the RMIT staff as an associate lecturer teaching marketing, management and entrepreneurship courses.
He is also known as an environmental activist and has founded many projects and organisations working in environmental protection.
He founded the non-profit organisation Việt Nam Clean and Green and is a core partner of the Vietnam Zero Waste Alliance.
Changing consumer behaviour
"Every minute, disposable plastic leaks into the environment, causing a series of problems such as river and sea clogging, killing terrestrial and aquatic animals, contaminating the food chain, thereby causing human health problems," Nhân said.
"Meanwhile, the many plastic bottles, jars, and containers that consumers use can be reused many times," he added.
However, there are currently not many convenient alternatives for purchasing the products in plastic bottles or bags, leading to more plastic waste being discharged into the environment, he said.
Refill Đây attempts to solve these problems before they become challenging by limiting the use of plastic.
"We offered an alternative to single-use plastic by going to customer sites such as at homes, offices, restaurants or hotels to refill reusable containers with reliable products," Nhân said.
According to Nhân, there are already filling and waste-free stores that work very well in Việt Nam but they often lack venues for customers to access them and don't have the brands customers want.
Most of the stores sell expensive products that put middle-income earners off.
In addition, the filling storers often require customers to bring their containers to be filled up.
This is a major hurdle for customers who live far from the store, as they will find it more convenient to buy a new product near them, he said.
The difference with Refill Đây is it works with well-known, reputable and familiar brands such as OMO detergent and shampoo of Sunsilk and Clear to distribute to consumers.
"We aimed to get more people used to the idea of ​​filling up. Through that, we wanted to change consumer behaviour and help reduce the amount of disposable plastic waste discharged into the environment," Nhân said.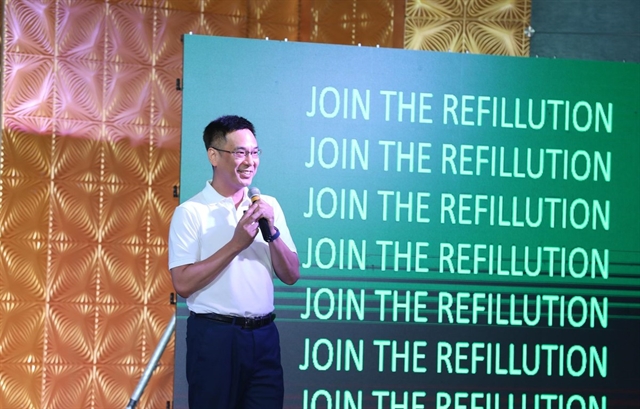 Nguyễn Hữu Nhân speaking about his idea
Environmental awareness
The Ending Plastic Pollution Innovation Challenge (EPPIC) was organised by UNDP for the first time last year inviting contest teams ASEAN countries to share their ideas on reducing plastic waste and environmental pollution in Việt Nam, Thailand, Indonesia and the Philippines.
As one of the four winning teams, Refill Đây received an US$18,000 grant to implement the initiative in Hạ Long Bay through the UNDP 9-month Impact Aim programme.
"The award will create an opportunity for us to connect with impact investors as well as other important development institutions in the ASEAN region," said Nhân.
Sharing about his implementation plan in practice, Nhân said since May last year, he had received co-operation and consultation from government partners, non-governmental organisations and leading enterprises such as RMIT, Unilever, UNDP, KPMG, Vietnam Silicon Valley, Refillables Hội An, Reform Plastic, the Women's Unions of Hạ Long and HCM City.
Refill Đây was launched in Hạ Long Bay last year and was well-received by local people.
The project is expected to launch in HCM City.
"We are currently experimenting with products such as detergents, cosmetics, spices and dry foods," he said.
"The project continues to improve the product brands and maximise its feasibility for widespread application in these two markets," he said.
According to the lecturer, this year, the project is looking for funding to develop business management applications, test models and promotions.
In addition to mobile sales, the project will deploy many different forms of sales to meet the needs of people such as opening Refill Đây stores in fixed retail and wholesale models.
The project will also work with the Women's Unions of wards to place filling points in neighbourhoods to widely disseminate to people as well as create jobs for local people to earn extra incomes.
"In the future, we will develop many other new sales models to best meet the needs of the people, develop the project more and more and the waste of plastic into the environment would no longer exist," the lecturer said.
"The most important thing of the project is to help improve people's environment protection awareness through the reuse of plastic with filling stores," he added.